IPTECHVIEW - Video Surveillance in the Cloud a New Approach That Beats On-Premise
Video Surveillance in the Cloud: A more Agile Deployment, Less Hardware and Maintenance and Unique Modularity and Scalability.
With IPTECHVIEW's MxLINQ you can tackle projects as small as one camera at one place, or as large as many hundred of locations with many thousands of cameras.
Equally remarkable is the fact that you can make money and start adding value and protecting your customers businesses with just ONE or TWO preconfigured cameras. In today's world this is very relevant since many businesses want to control their ingress-egress areas. With business owners and managers working from home a secure link to cameras gains new meaning. Situational awareness and actionable intelligence makes a difference. IPTECHVIEW empower the camera solution to act even more intelligent provide proactive alerts, give people counts, offers alarm system integration to enable alarm video verification that reduces false alarm charges and much more. For integrators the power of the system, the ease of deploying and training users makes this solution a game changer.
MxLINQ was optimized for MOBOTIX cameras and reduces integrators configuration time to a bare bone minimum. All devices can be sent to the user preconfigured and installation becomes a breeze. All equipment is already configured and virtually attached to the account so that final setup and all fine tuning can be done by the integrator / technology partner remotely after the devices was physically installed. Additional cameras support will be available soon with AXIX cameras coming in first.
End users love IPTECHVIEW because they don't need any extra equipment or install any software and can use all their phones, pads and computers to access the surveillance solution from anywhere any time from any of their devices.
In today's economy, its great for customers to start small. With on premise solutions that's too expensive but with IPTECHVIEW' you can starts small and simply add cameras. Customers have many competing challenges and decisions for large projects without prior experience is daunting and cause a longer decision cycle. If you can prove the concept with incredible service and value with just one or two cameras that can be delivered the next day or two and be installed in a couple of hours the is a game-changer! (Watch the Video and then read more below for full value proposition.)
IPTECHVIEW's secure Cloud VMS & proactive alerting platform actually starts paying for itself with just a couple of cameras and scales as needed to many locations and thousands of cameras. No local servers are needed and fine-tuning and future servicing can be done remotely very cost-effectively after their initial rapid deployment.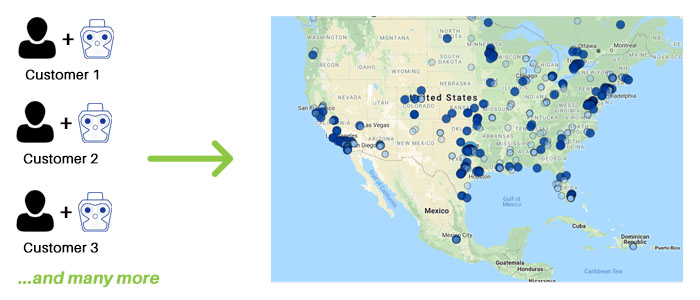 With less people in the offices and owners and managers working from home too there is a higher level of situational awareness of their organizations locations. Typical questions your customer have are: Did certain people make it to work that day? At what time did someone come or leave? How many people were in the building? What are our peak hours or busiest days? These are all questions that may need quick answers they can now give with the assistance of an intelligent remotely accessible surveillance system.
Fulfill your customer's most urgent requests and much more by just selling him the cameras he initially needs and letting him add on without limits whenever he wants to. And there is one more thing - AlarmReady™.
All IPTECHVIEW MxLINQ preconfigured cameras are enabled to be easily integrated with any alarm system already owned and in the event of an alarm to send an alert via SMS and EMAIL.
Many cities in the event of an alarm will not send police unless the alarm is video verified. Your customers will love it that now they can know what's going on even before the monitoring company calls them and savings on false alarm fees alone can pay for the initial system.
Click here to read more on AlarmReady™ - an exclusive offering by IPTECHVIEW™.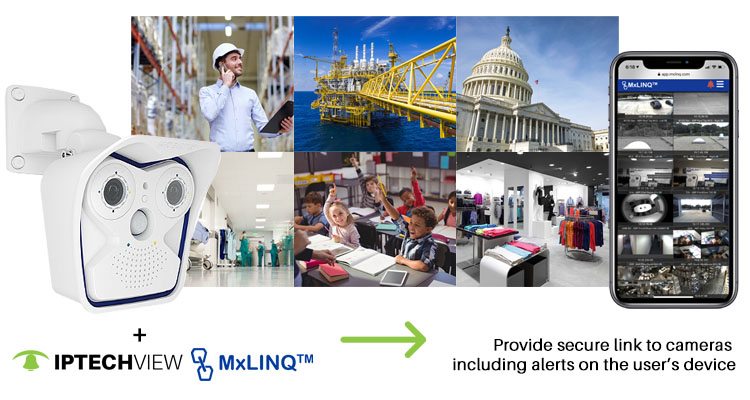 Last but not least, the IPTECHVIEW - Mobotix solution is sold by local technology partners that and customers can be serviced by the local partner that installed them the system. The IPTECHVIEW platform is designed to give partners free native health monitoring tools and secure remote servicing tools so partners can easily offer their own recurring maintenance plans.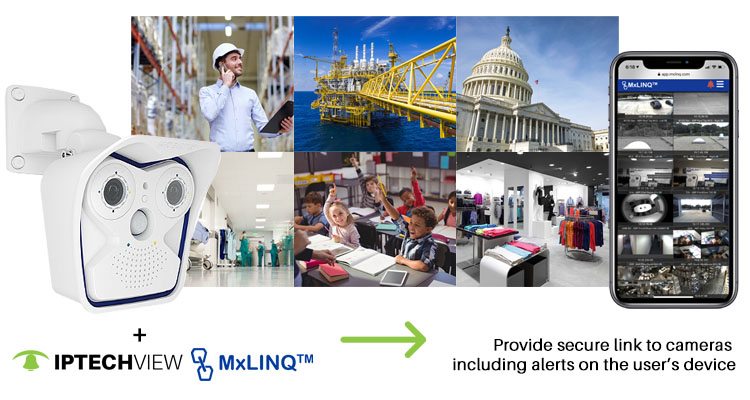 IPTECHVIEW's Platform is Enterprise ready like no other solution and offers single Sign-on with integration for multiple platforms including Active Directory for Azure and Google SSO and supports thousands of users and can scale up to thousands of cameras at hundreds of locations all over the world.
Our platform is designed so that partners can create value and create their own solutions for their customers and can remotely provide a secure mission critical level of support.
Partners will always keep control of their customer project, pricing and support plans.