Rapid Deployment - A Competitive Advantage Disclosed
Are You a Leader in Decentralized Physical Security IoT & Infrastructure?
You Install Surveillance or Centralized Identity Management, Real-Time Monitoring & Security Enforcement?
They say you make your money when you buy, not when you sell. 95% of a great price point is lost in the lack of accurate preparation. New technology compounds this issue due to the experience curve you have yet to gain before you reach the level needed to walk into a conversation with confidence. This slows down the speed at which you can ramp up how fast you can successfully deploy a rock solid solution. What you need is a reliable way to rapidly assemble solutions that you can manage from one central location, with the icing on the cake of having all your devices provisioned for you on a proactive cloud platform.
Imagine ordering and installing IP devices right out of the box that cut your time down to minutes instead of having to manually configure every single device just to get it to show up on your network. Can you leverage the volume and experience of someone to do the mechanical work and focus yourself on the true IT value add? How great would it be if you can just order what you need, plug it in and you can start using it right away?
You Can Source Decentralized IP Products Pre-Configured, Shipped to You - Cloud-Ready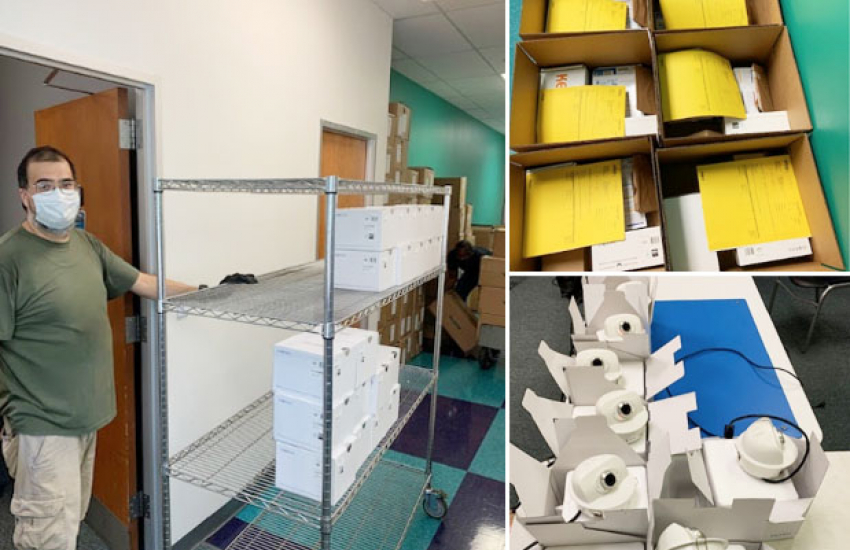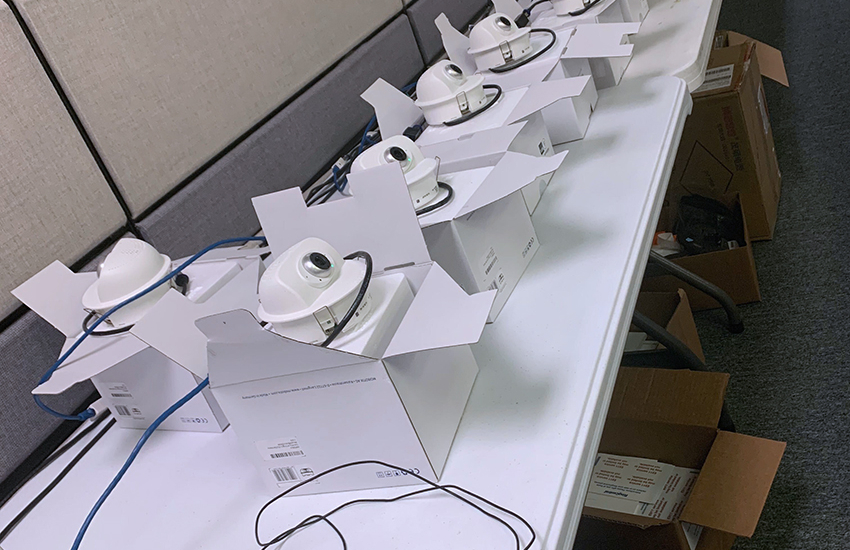 ABP is a Specialty Distributor that has 10 years of experience focusing on Cloud Fulfillment of specialty IP products for companies like RingCentral and Konica Minolta to ISPS, MSPS, large or Three Man System Integrators for over 20 years. Taking the expertise we learned from shipping over TWO million VoIP phones pre-provisioned for hosted and cloud solutions, you can add routers, switches, LTE modems, thermal imaging devices, intercoms, PBXs, surveillance and fever pre-screening devices and more into a single uniform cloud platform… and of course VoIP phones too.
You no longer have to worry about knowing every nuance of each type of device, each manufacturers' different way of configuring their devices, or the pain of having to assemble all the parts needed to make a device whole. It's all done for you before it leaves the loading dock.
Position Yourself & Your Team As Experts and Get Your Project Done in Minutes Instead of Hours
When you receive your cloud-ready devices, you'll experience:
Taking devices right out of the box that have professionally kitted & assembled ensuring it's all put together correctly without having to read endless manuals.
Avoiding turning expensive equipment into a paperweight or "bricking" your device by having the exact match, latest & stable firmware release running on your equipment.
Banishing preventable Dead-On-Arrival returns with additional Quality Control checks for functionality, assuring you can rest easy your devices are good to go.
Knowing that you don't have to pay-to-sit-and-watch when babysitting the formatting of MicroSD cards and effortlessly realize the optimal lifetime performance from your storage.
After you're done wiring, installing, and plugging in your equipment, you'll immediately see them waiting for you online and sidestep the hassle of configuring devices from scratch, one at a time.
Gaining back your valuable time, effort, and energy by leapfrogging over the initial newbie barriers of training & certification-related expenses and getting back to doing what you do best, execute.
Refocusing your internal training to getting the job done correctly outside of the technical bits, keeping you in full control of the experience you create for your end-users.
Walking into any conversation with the confidence of not being limited to a one-trick pony, armed with a full suite of IoT Physical Security, Communications, Security & Environmental Monitoring Infrastructure devices that are ready to close the deal, just like you are.
Introducing RAMP - The Service that Rapidly Assembles, Manages & Provisions your Physical Security IoT Devices Saving You the Headache of Project Managing Prep Work
Smart Money is Spent on Leveraging Expert Technical Assets Directly From Distribution To In-Field Production and Grow At Scale
Locked and loaded with the full weight of IPTECHVIEW's entire provisioning and developer team built-into every device, you'll be more than prepared for any size deployment, before you start and well into the future.
RAMP was specifically designed to simplify the installation process of ordering the exact model you need, connecting it to a network, to having it waiting for you in your Cloud account.
Ordering your devices with RAMP Service before 10AM CST are typically shipped out the same day if not within 24 hours. Depending on how early you place your order and your shipping preference, you could have your equipment show up as fast as the next day.
Reaching the finish line is as Pick, Deploy, Cloud.
There's no better way to astonish your end customers with over the top service and speed than getting the project started immediately and wrapping it up faster than you started… trust us, this is what builds an envious reputation around town, just ask your competition.

Becoming an approved Partner is as simple as filling out a short sign up form, we'll then send you an online Reseller Agreement, include your State's Tax Payer information and submit it to us. In about an hour from receiving your approval, you'll be ready to place your first order and get your demo gear on it's way to you. And yes, demo gear can qualify for NFR pricing - we aren't trying to make a buck on the tools you must-have for successful sales presentations.
What IPTECHVIEW Partners Are Saying About RAMP
"I love IPTECHVIEW and the provisioning tool MOBOTIX cameras already in the field. I'm happier than a pig in a bucket of slop."

Matt Harker, Goserco, Mesa AZ
"I didn't have to worry about much at all. It was all done for my guys and ready to go."

Rick Rollerson, Owner, RO IT Solutions, Dallas TX
You've Got Questions, Here's Some Answers - Frequently Asked Questions
RAMP has the word Rapid in it, what's rapid about it?
RAMP Services is provided to you by a dedicated Provisioning Team and overseen by both our CTO & Director of Operations. The Provisioning Team has the capability to provision up to 250 devices per team member, per hour. This means we can assemble, configure and provision 1000's of devices daily and keep them heading out the door so you get them delivered hot and fresh to your doorstep. Oh, and of course, it'll take you about ten more minutes to have them show up on your Partner Cloud Account once you plug them in.
What about all my devices that I already purchased elsewhere and want to add them to IPTECHVIEW?
You can absolutely add all your devices in the field to the cloud and we'd love for you to obtain all that extra monthly recurring revenue while saving your customers a lot of money month over month.
Can I buy equipment online for a cheaper price and just add devices to the cloud?
You absolutely can and should continue to buy elsewhere, when getting the cheapest price out there is all you care about. If you are dead set on continuing to order from race-to-the-bottom resellers, you can always add those devices on the cloud for $150/ea. and we can help you with manual provisioning.
RAMP was specifically designed and affordably priced for Partners who are sick and tired of spending countless hours performing repetitive work and not always getting the consistency when things get busy. RAMP is a simple add-on cost to the price of a device when you purchase both from us. You too can enjoy the power of leveraging RAMP at a nominal cost when looking at the big picture of your business model. We invite you to pay a little more now to make more tomorrow, and for years to come with cloud services.
What exactly are you doing to the surveillance cameras when I choose RAMP Services?
As a certified distributor, technical and cloud provider of IP Surveillance Cameras like Mobotix, our experienced Provisioning Team has been trained at a deep level before they are promoted to the team. First, we take the cameras out of the box, inspect them thoroughly for physical defects or damage during shipping, add the exact sensors you selected with the order, and upgrade the internal MicroSD storage card with a preformatted card to a minimum of 32GB. 64GB or higher is recommended. Once the camera boots up and passes our pre-flight checklist, sprinkle some technical magic along the way, then they are provisioned and assigned to your Partner Account under Unassigned Devices. From there, all you have to do is assign the cameras to the location of your choice and that's it. Typically when you perform these steps on your own, our existing Partners have stated it can take from 1.25 to 2 hrs per camera to produce the same results manually.
What does RAMP Service cost?
Pricing is highly dependent on the type of equipment you need RAMP'ed up for you. The less work that is needed to prep a device, the cheaper the price. Some devices are as low as $9/ea for RAMP and top out around $39/ea for more complex IoT devices. On average, most devices will fall into the $19/ea range.
PRO TIP: Ask for our bundled MSP pricing for Mobotix Surveillance Cameras, bundled with an upgraded MicroSD Card (32GB or higher) and get RAMP for only $1/camera.
What if I have devices in the field I want to add to the cloud? Do I have to ship devices to you?
No need to ship us anything for devices that are in production. Each manufacturer has its own unique way of provisioning their devices to use with IPTECHVIEW. There's a few that are still a manual process, that's not hard, but it will take you a few minutes to complete.
Mobotix Cameras for example have our IPTECHVIEW Provisioning Tools available to use locally and you can do it yourself with an active cloud license. You can also purchase a four hour block of Premium Support Hours at $150/hr that you can use for training, remote support and front of the line access to our Cloud Specialists.
Depending on your network connection to cameras in the field, you can easily provision 20, 30, 40 even 100 cameras in a few hours. The remaining hours you can use as you wish for an entire year from the time of purchase. Ask us for more details if this is something you'd like to use and onboard your low hanging fruit of Mobotix Cameras on the IPTECHVIEW Cloud.
Say I'm in a position where a customer has to cancel their Service Agreement with us. Do I have to unprovision the devices in order for the customer to be able to continue to use them?
Absolutely not. All settings on devices are for communication and management of the device through the IPTECHVIEW Cloud, only. We do not block, alter or manipulate devices to lock you into some strong-arm tactic you may have seen with other cloud services out there. Once a license has been canceled, the only difference is that you won't be able to access the device from your Partner Account, and you customer can keep using the equipment they paid for locally.
Do you offer trial licenses & what's the refund policy for RAMP Services?
There isn't one. :) However, if you're still a little shy or like most savvy Partners, you want something better than a refund policy on a service. When you become an Approved Partner, the first thing we create for you is your own customizable and brandable Partner Cloud Account in IPTECHVIEW. This way when you order, or you want to add your own company demo gear to the cloud for your sales team, you enjoy this indispensable perk.
Worst case scenario, we'll make sure you're taken care of with a Premium Cloud Support Package ($150/hr min. 4 hours) at no additional cost to you.
How many devices can I add to our Partner Cloud Account?You can add up to 6 of each type of device to your cloud account. 6 Cameras, 6 Infrastructure Appliances (routers, switches, etc.), 6 Thermal Imaging Devices (MultiSensors, SmartXcans, etc), 6 Cloud Objects, and 6 Communications Devices (like one PBX and 5 VoIP Phones). You'll have more than enough available at your fingertips to do a proper presentation for your customers.
What's it's cost for the Partner Cloud Account?
It's basically free forever with a catch. Keep selling devices with RAMP Services within the last 6 months and you don't pay a dime. Easy. Peasy.
This is sounding great! How do I get started with RAMP Services?
If you're not an Approved Partner or you haven't placed an order in a while, you'll want to get started by clicking the button below and filling out a super short form. We'll send you the Reseller Agreement and you're ready to order your demo NFR equipment and schedule you for your first IPTECHVIEW Test-Drive using your own Partner Cloud Account.
NO QUESTIONS ASKED BETTER THAN YOUR MONEY BACK IRON-CLAD GUARANTEE
The truth of refunds is that you really don't want a refund. You just want your equipment to work as advertised and services to be done professionally and correctly, right? We do our best to make sure this never happens, but we live in the real world. In the real world when something comes up, let us know immediately so we can work with you to solve the problem, and solve it fast.
You're going to have to get your hands on your own demo equipment if you don't have any approved IPTECHVIEW Cloud Devices already. It's the gold standard of successful salesmanship, outfitting your sales team with access to your Partner Cloud Account & Gear running at your office or showroom. Here's our Guarantee: Not only will we extend NFR pricing for your demo equipment, but we'll give you a full refund - no questions asked within 14 days of purchase, just cover your part of shipping back to us and make sure the box, contents, and equipment are in tip-top shape. If you broke it, you bought it.
Act Now to Take Advantage of Ordering Your Equipment With Full Technical Support & RAMP for $1/Device Through the End of the Year
Become an approved Partner now online or if you'd rather speak to a human, give our Inside Sales Team a call at 214-831-1600, option 3. We'll help you through the approval process, and help you select the exact demo equipment that will make the biggest impact for you and your customers. As a quick reminder, demo gear can qualify for NFR pricing, and arm yourself to the teeth with the Specialty IP & IoT tools you must-have for a successful sales model.