7 Reasons Why IPTECHVIEW Cloud Video Surveillance is the Best for Business and Their Installer/Integrator Partners
IPTECHVIEW is one of the first Direct Cloud Camera Video Surveillance solutions for businesses not based on single vendor lock-in. It allows for fast serverless deployments with preconfigured cameras and gives users a simple, quick-to-learn user interface to do what they need.
Customers today have a confusing variety of choices, and integrators selling solutions have a lot of competition. Delivering a solution that checks all the boxes and works for your customers is a great way to grow your business by having happy customers.
Everything in the IPTECHVIEW journey is streamlined to help the customer and the technology partner simplify and speed up both the delivery and adoption of the solution.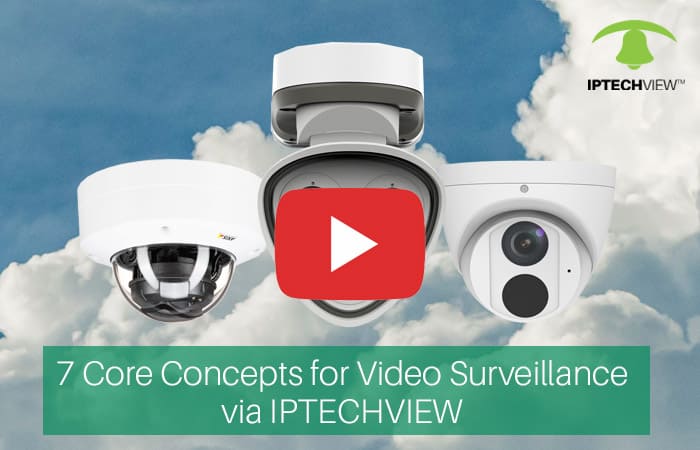 Here are the 7 reasons:

Simplicity of User Interface
Users expect simplicity by design in their user interface. Everyone is used to loading an app and quickly figuring out how to use it. Solutions that require hours of training are out. This video surveillance solution is made so casual that users can quickly start using basic functionality. Yet, the application offers depth and complex functions they can gradually discover when using the system. From warehouse managers to CEO, HR, or loss prevention, they all can use this system in minutes and feel highly effective within a very short time.

Serverless & Scalable
A simpler design of the overall security camera solution with minimum elements means faster quoting, faster installs, and lower costs due to less on-premise equipment and reduced installation time.
What server should you use? If you use the small one, it can't grow. If you take the larger one, your entry point and cost per camera are too high. How many hard drives will you need?
IPTECHVIEW is engineered to be serverless, highly scalable, and has no practical storage limit. No extra boxes, bridges, or NAS besides a PoE switch are needed. The Just Cameras & Cloud ™ architecture makes the design of any system much easier. You just select the most suitable cameras for each location and decide with the customer what sequence or phrases they would like to deploy.
Storage innovation - in-camera and in-cloud (Composite On-Demand Video Storage Technology)
IPTECHVIEW blends storing of in-camera SD card video with cloud storage video. This enables low bandwidth operation and ensures continued basic functionality even during Internet outages. It also eliminates "viewing gaps" in cloud storage of competitor's solutions by making even the latest events that have not had time to upload to the cloud available seamlessly from the SD card.

Speed of Installation Means Less Disruption for Customers and Lower Installation Cost
Preconfigured to be configurable™ difference.
When you order IPTECHVIEW Ready™ security cameras and PoE switches for cameras, these will be shipped pre-configured for your account. All cameras are pre-assembled, tested, formatted, and tested SD cards are installed, firmware is updated when needed, the device is configured, security keys or tokens are added, and connectivity of the device to the platform is tested - all before shipping.
No software installation on customer equipment needed.
IPTECHVIEW was also designed not to require any local software and runs browser-based on the user's desktop computers, laptops, even Chromebooks, pads, and smartphones. It is genuinely bring-your-own-device. Users can immediately access the system once they know their URL and credentials. Just add the URL to their favorites, and they can now always log in from anywhere, at any time.
Faster user onboarding
IPTECHVIEW makes installations very fast and takes all our stress on-site, empowering the partner to spend more time properly onboarding the customer. If that is done well, they will always remember the technology partner that delivered the system.
With IPTECHVIEW Single Sign-On, customers using Google or Microsoft servers for their company email will be able to log in immediately with their regular passwords. Others will get their credentials by email or SMS. All they need is the link to log in and bookmark. This makes things painless and easy.

Security is Higher in the Cloud
On-premise simply does not get as many resources, scrutiny, and oversight as security in the cloud.
It's a myth that on-premise is more secure. Things are only as secure as the process and effort put into security up front and the ongoing effort to maintain security in an ever-changing world, including the ongoing screening for weaknesses and constant improvements.
We are committed to security. Security is about intentionality and dedication. At IPTECHVIEW, we believe in security by design and keep the security dimension in mind in all our processes and decision-making.

Democratization of Video Access
A simpler user interface enables more users at all levels to embrace and use the system and provides customers with more security and a higher ROI.
Our market research concluded that a more straightforward, easier-to-use user interface was the most requested feature for all user groups. We spent several years making our software simpler for users ranging from staff to managers and loss-prevention teams.

More users mean more security and better ROI
We learned that companies that use video gain more than just loss prevention and security people.
Mobile access to live and recorded video gets used for quick informational inquiries. It provides the team with valuable actionable intel. We have seen demand in HR, workflow, process control, and quality control areas. Gone are the days of pure forensic storage. Video can provide valuable data for businesses. It depends on the jobs at hand and the positions of the users.
Personalized Alerts and Privileges.
Different users have different needs. Casual users that need to see a live camera quickly have different requirements than loss prevention teams. We resolved this by having incremental menus where users always only see the options in the menu they have access.

Focused on the essentials
Give Customers what they need and allow them to grow with the platform.
Users need to feel that they fully understand the basics before they care about more complicated features like deep learning and AI analytics or alerts. IPTECHVIEW is built to get the basics right with a solid feature set that can quickly expand by adding additional features and vertical industry-specific modules. IPTECHVIEW allows for License Plates, Face Recognition, and much in-camera analytics to be added on a per-camera level. The system can be expanded to add access control and IoT functionality. Industry-specific packages can be made available when needed as add-ons to all customers.

Partner-Centric End-to-End Solution.
Customers get pre-configured cameras installed by certified partners, powered by a world-class secure cloud solution that includes health monitoring with post-sales service by a knowledgable local IPTECHPARTNER™.