Security Cameras for EV-Chargers with Cloud Management & Monitoring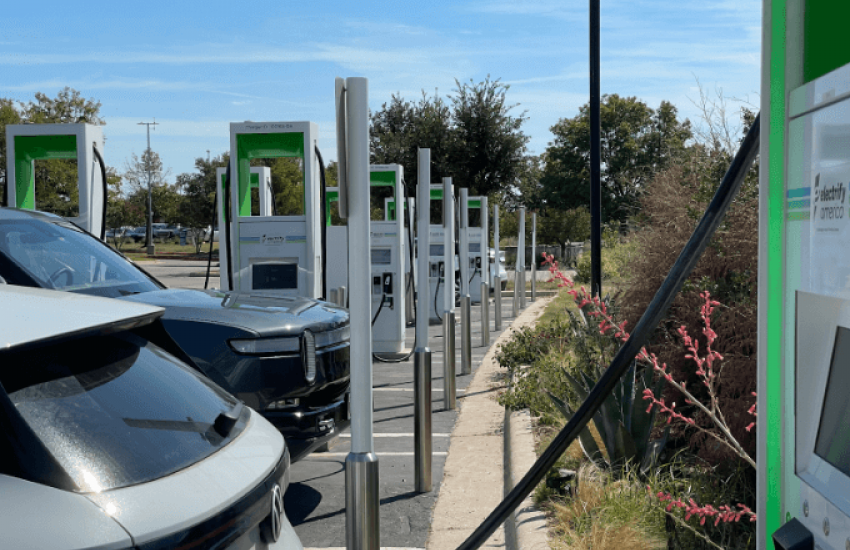 At Dallas-based IPTECHVIEW we are passionate about making better tools to securing places, people and assets. We provide a unique Video Surveillance as a Service platform that include IoT sensors and AI analytics and a secure remote management and health monitoring platform for security cameras and other intelligent edge devices.
Electric vehicle charging stations are getting increasingly popular and are frequently deployed near shopping malls and other areas where the car driver and passengers can use their wait time to go shopping or get a bite to eat.
Most electric charging stations are near highways, and people often drive through on long distance trips and need to stop to charge their EVs. Owners and passengers from these vehicles get a break from driving and can walk and entertain themselves while charging. Unfortunately, bad actors know that especially out-of-state vehicles will have more valuables in their cars which increases the risk of break-ins.
Car charging infrastructure also is at risk since some thieves now are cutting off the charging cables to sell the copper. VIDEO: Brazen thieves steal EV charging cables. This has become so frequent that they even named the perpetrator type 'Earth Day Grinches'. Some have gone as far as cutting cable while charging a car. Even a Tesla Supercharger was affected. This is relevant because charging infrastructure is critical to drivers. With limited chargers being available users may not have any alternatives. If they picked a specific charging point to charge on their route they may not have enough charge to get the the next charging point.
The sad part of this type of crimes is that the thief will get minimal salvage value for the copper in the cables but the cost to the organization replacing the system and repairing collateral damages may be in many thousands per charging unit.
The first goal is to prevent immediate theft by detecting the early stage of the action, applying audio and visual alerts when the right systems are used this can be highly effective and help keep infrastructure intact and save a lot of money.

The second goal is to capture thief's so as to prevent future theft. To do this it is necessary to identify the culprits and creating a workflow for the monitoring center to be able to work with police to catching and arrest them.
This is best done by getting early positive signals that help the monitoring center positively identify the people and vehicle related to the criminal actions. It's is important to notice that the same technology will also catch people that are vandalizing equipment.
IPTECHVIEW's Cloud Platform makes it easy to detect vehicles, and record license plates, make, model, and color entering and exiting the area. The system also supports a line of IoT devices that can get signals on 16 channel IO devices, wireless volt meters that can help detect any electrical anomaly as well as IoT Magnetic contacts with sensors to detect unusual vibrations including electric screwdrivers to trigger an alarm even before a wall-panel or service doors on the EV charging station are opened. This enables the system to send an immediate alarm, location data and video feed from the affected site to the monitoring center along with a collection of data that includes map, site layout data, camera views, license plate, make model and cars on site.

The monitoring crew can then view scenes, analyze videos to select the suspicious vehicle, possibly add pictures of bad actors and immediately dispatch the police. Delivery is done via special links that can be shared with dispatch and even troopers so they can get the last intelligence from the site. Once the news more regularly shows the arrest of copper thefts at EV charging points this activity will stop and as a silver lining drivers at EV charging stations will feel safer too. Let's get the Electro Grinches arrested!
To make this happen it is essential to use smart security cameras and IoT sensors. These are intelligent smart edge devices that not only act as cameras but also include an AI core that was programmed to detect certain behaviors that could indicate that a threat to the installation is imminent and route and alert a professional monitoring center that can summon law enforcement, provide License Plate recognition, talk down to the actors to scare and dissuade them. The earlier a contact is made, the higher the chances vandalism and damage can be averted.
High-end security cameras will also help identify culprit vehicles and will provide a lot of visibility and information to law enforcement. Vehicles that were involved in one incident could immediately flag a response to monitor or even to summon the police to try to catch criminals red handed the second time.
A monitoring center with access to two-way audio and tools like high-pressure speakers and illumination they can use to escalate their threats by switching on attention catching threat detected mode along with a quality video that will serve to identify vehicles' make, does, and color, License Plate, and possibly other marks like signed on car or scratches on paint in addition to capturing as much information as possible on perpetrators, heigh, partial face images that can be reconstructed, etc.
At this time, cameras with human activity monitored by people are still best, but it seems not far-fetched that we will eventually use machine learning to help identify unusual behavior like what precedes cutting cables and also vehicle break-in attempts.
The beauty of a cloud based camera system is that it is easy to update existing cameras and all prior sold systems to accommodate new Technology as it gets refined and deployed.
IPTECHVIEW does not lock the engineer or integrator into a particular vendor and can operate with a smart mix of devices to create the perfect composite solution combining the technology, price, and durability advantages to create a robust solution and a long-term deterrent that can be remotely upgraded with over the air firmware updates and constantly learn with improved and more powerful threat recognition algorithms and templates.
On the cameras side the multi-brand platform provides third-party secure direct camera-to-cloud support for AXIS, MOBOTIX, and select NDAA-certified brands. IPTECHVIEW provides secure access to live video and in-camera recorded video and also enables secure access, loading, and managing in-camera software like AI applications for person, vehicle detection or custom AI applications for electric charging stations, Parking management, left object detection, and more.
A&E firms can get samples, API's details, information on recommended sensors and discuss how they can best integrate their workflow needs. For more information on our EV solutions, please contact us at sales@iptechview.com or call us at 972-222-1110 #3.