Cloud Access Control Compatible with your existing hardware
Made easy and comfortable with cloud-based management
Some might say "I'd wish the good old days weren't over… the days where we could sell the hardware, the software, and every service minute we could count…" - and I'm not faulting them for thinking that since it's true - those days are over. It's a fact but who says there ain't better days ahead of us?
Take Access Control Solutions for example, I guess it's a fair assessment that we all remember the panel-heavy and work intense solutions which needed control boards, server based software and specially trained users to operate the system. Right… the good old days… but do you also remember the unhappy end-users who didn't like the fees and the complex user interface of the system? Who got frustrated over a simple software upgrade because it took you 8 hours to accomplish it? The problems to have a PC/server running all the time or even to exchange it? Yes, I've talked to end-users who did and they were not happy campers.
Our end users - today - are smarter, better informed, and expect more. So, my advice is simple: give them what they ask for. Use modern solutions to exceed their expectations, make your life easier, and have less work by lowering complaints and support hours while making good profit and expanding your business. We have the solutions you need for that, including the training and support - and that's an ABP promise!
So, allow me to introduce you to such a modern Access Control System which will help you grow your business while making your clients happier than ever: the Kentix SmartRelay.
How much tech-hardware and software do you need to control 5 doors?
The answer is simple, just this much below: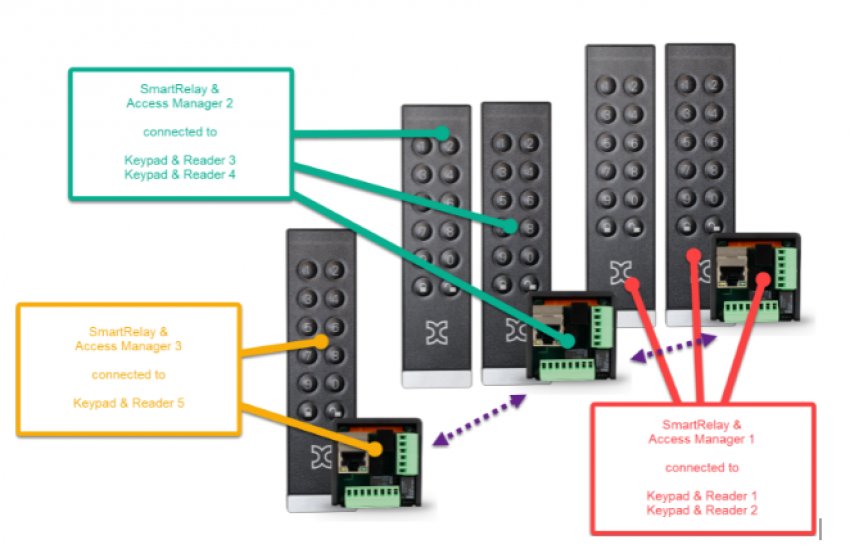 Three SmartRelays or Access Managers can be easily meshed together by being on the same network. It's basically IP to the door. The example above shows a small five door solution for a condo building: 1 SmartRelay manages up to 2 readers which means each door gets its own reader but only 3 Managers are needed. But it gets even better, since 2 readers can be daisy chained together on the same line, it requires far less cable and is easier to install. And, of course, absolutely no panels needed!
The only software you need is built into the Access Manager via a web-user interface which means, no more running computers eating up utility and maintenance costs. One Access Manager is set to main and syncs its settings to the rest in the Mesh-Network. Take a look how it could look: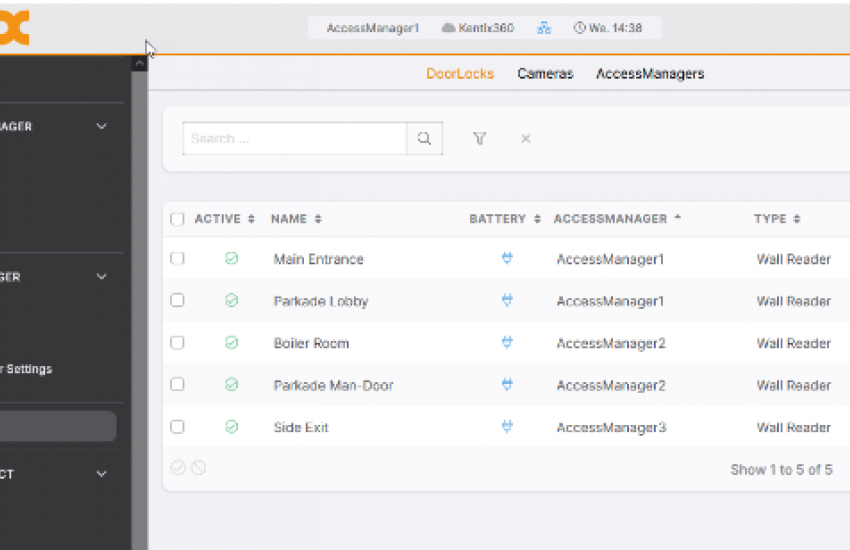 As you can see, all 5 doors are listed in the main-unit's device settings. The next step would be to define the Time Profiles and combine it and the individual door locks into an access profile which can then be linked to users and user groups.
Best of all, the Kentix is capable of connecting to an IP surveillance camera and storing still-shots into its own access log - at no extra charge! This way, you don't have to juggle between 2 programs and manually match the time and date to see who really entered.
Cloud-based management by IPTECHVIEW - coming soon
Using the system while being local is as easy as 1-2-3, and even remotely logging into the system once a port-forwarding rule has been set up correctly isn't a problem. However, to make it even more convenient and to NOT rely on correctly programmed routers, we recommend using our cloud-based management system built into our platform. This is especially useful when being responsible for multiple buildings and in need of managing them from almost anywhere in the world… given that you have access to an Internet-capable device. A browser is all you need!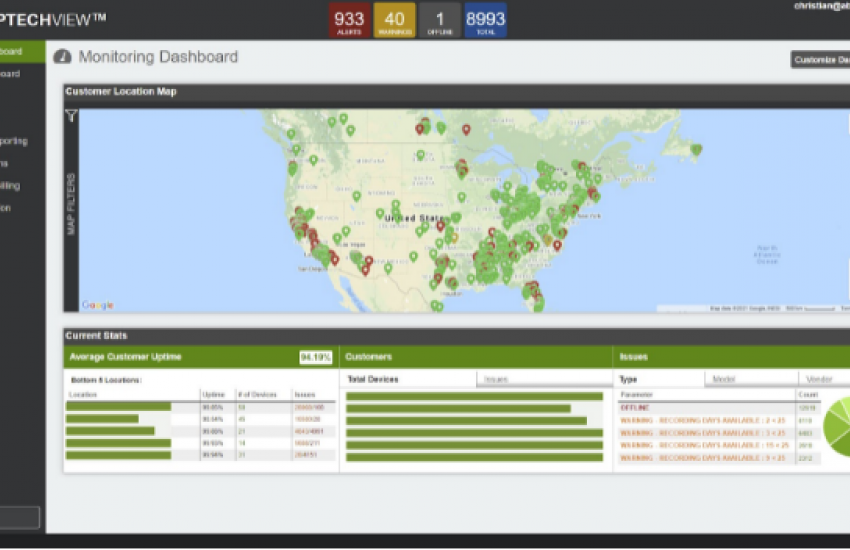 The connection to IPTECHVIEW is currently under development but has reached beta stage, so we are confident that the final certification is just around the corner.
Start going smart NOW with our Access Control Starter Kits
Make the next step and GO SMART today. Call us for your own customized Access Control StarterKit and experience the benefits yourself. Don't take our word for it - we're happy to show you.