IPTECHVIEW UPDATE - November 2021
Rolling Cloud Updates will start on 11/12 and we plan to finish on 11/18. Users and partners will not need to do anything on their side. All new features will automatically become available on desktops, laptops, tablets and smartphones.
Still wonder what IPTECHVIEW MxMSP/MxLINQ does for you? Read more here.
01 | UPDATE & NEW FEATURES 2021
The last year was great for us to work on the finishing touches to give you a better cloud video surveillance product. We made it easy to use by everyone that needs access to video surveillance at a customer's organization. Our new product gives your customers an awesome user experience, and gives you the tools to provide top-notch ongoing support and service.
Simple and Self-Adapting
Our goal has always been to give you a cloud surveillance so intuitive that your users can easily and immediately start using it. In addition to fast and simple onboarding, users don't have to conform to the platform - instead the platform conforms to them! Personalize what to see and how to see it! Customize device and object alerts & warning thresholds to provide preemptive and proactive support.
Provide a Solution that Scales
Our platform lets you sell even small projects profitably, and let them grow to whatever size your customer needs.
Since our system requires no servers or on-premise gateway boxes this is also very attractive to larger multisite customers and allows everyone to start small and scale as needed.
We invested thousands of hours on scalability and today, we support customers with hundreds of locations, thousands of cameras, and thousands of users in countries on five continents.
MOBOTIX MOVE
We added support for new devices and added support for MOBOTIX MOVE cameras. We also further refined support for DrayTek switches, routers, and IoT devices from Kentix.
Give Customers a Future-proof Solution
Our platform helps customers expand their surveillance platform to support different access control and IoT solutions, as well as support all the system infrastructure like routers, switches.
02 | NEW FUNCTIONALITY
Single Sign-On
To make things simpler for users we added Single Sign-on with Google and Microsoft. Active Directory is also available as a premium option for accounts that need customized integration between Active Directory Grants and platform privileges.

Configuration Management Tools
One of the most important features for managing a surveillance system, be it by the in-house IT team or the reseller's support team, is configuration management. We added a complete toolbox for MOBOTIX cameras to MxMSP to make this easier.
MOBOTIX Camera Configuration Audit Tool - Compare and audit a camera configuration file-based on the Master config file
MOBOTIX Configuration Location Update Tool - Push configuration to all IoT cameras associated with a specific location at once
MOBOTIX Configuration Device Update Tool - Push configuration to a single IoT device
MOBOTIX Camera Nickname Sync Feature - Push name configured on IPTV to a single device
MOBOTIX Configuration Change Alert Tool - Automate configuration backups and receive alerts when a configuration has been changed/edited
See the World as Is and More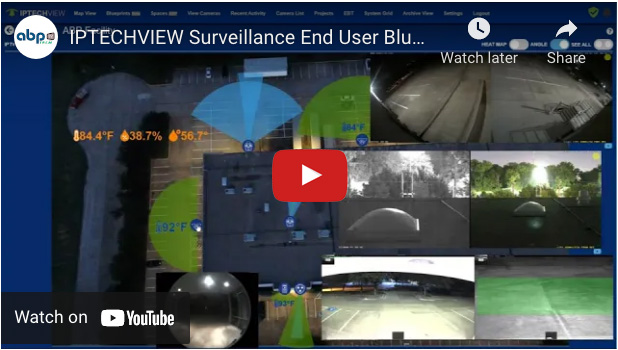 Blueprint-AR is our new floor plan view designed to work with blueprints, aerial views and offers Google satellite image integration. The AR stands for Augmented Reality since Blueprint can show non-video data like temperature, humidity, people counts, and traffic heatmaps.
03 | VERTICAL SOLUTIONS
IPTECHVIEW's platform was built to easily expand with Vertical Solution Modules. We created a special feature and made it available for MxLINQ/MxMSP as a quick response to Covid-19 with two modules to help users deploy systems to screen for elevated body temperature.
License Plate Recognition & In-Camera Analytics
Another important goal for IPTECHVIEW was to empower MOBOTIX in-camera analytics. As a first in Q2 2021, we finalized incorporating Vaxter LPR in-camera License Plate Recognition and created a first dedicated MOBOTOX in-camera analytics handling module that can alert depending on black or white lists via SMS or Email and shows license plates, car makes, and colors.
Management of white & black lists can be done centrally and single plates can be added remotely on mobile devices by users with the right administrative privilege levels to support both operation and management on mobile devices.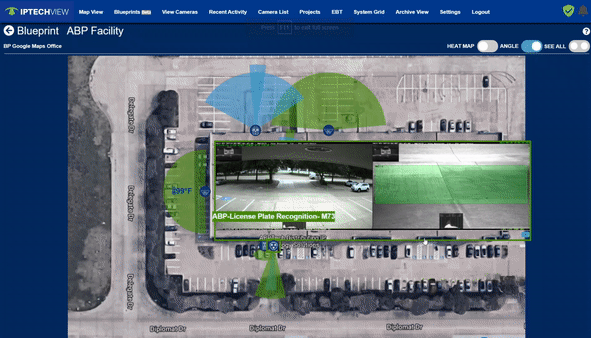 04 | FEATURE IMPROVEMENTS
User Interface Improvements
Improved zooming and new rotating functionality to both the live stream view and the recording player eliminated the need for in-camera dewarping and makes things even more intuitive for the casual user and the loss prevention team.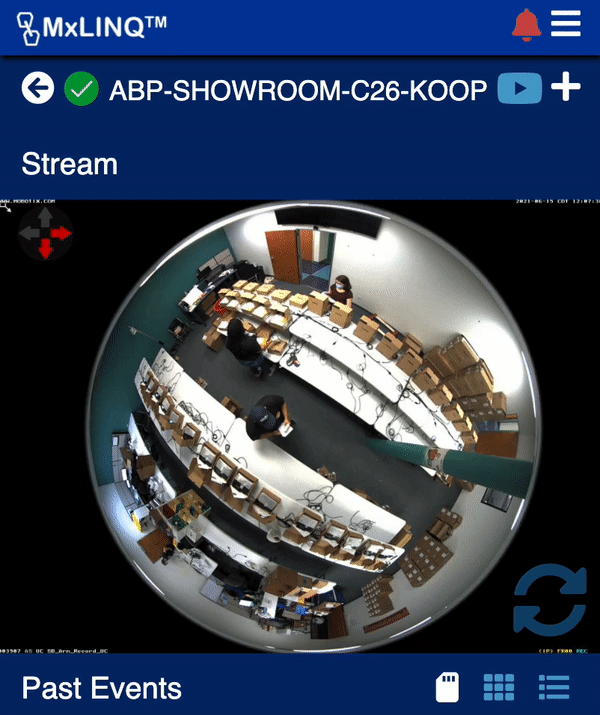 Custom Arrangement of My Camera View
The latest version adds drag & drop arrangement to the 'View Cameras' page in browser- based viewing and even phones, so each user can define his own personal camera layout.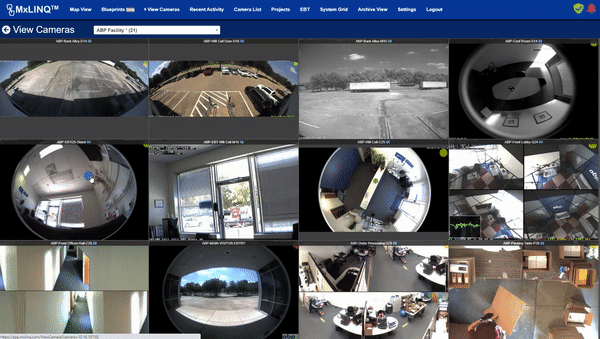 We also added an inactivity timer and auto-logout to prevent excessive bandwidth usage and camera overloading.
05 | SNEAK PREVIEW
For those that can't wait, here's a short preview of what we expect to be released before the end of the year.
Spaces
You will soon be able to provide your users with an intuitive and customizable new dashboard to see areas of interest and access views of cameras and other information like Maps, Weather, and IoT data by areas called Spaces. *BETA Version will become available before the end of the year.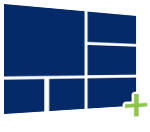 We really liked how easy it was to create user-friendly layouts in MxCC and decided to bring this feature to life again on our platform for everyone.
Two-Way Audio
You kept asking for it so we finally set out to add Audio to our platform and expect a beta version in the first quarter of 2022. This feature will become available on SIP-enabled cameras and door stations on the IPTECHVIEW platform.

Customers will have two-way audio to listen to remote sites to better understand situations, where this is permitted and talk to cameras with speakers as well as other devices like pagers & doorstations.
06 | RELEASE NOTES
The list of improvements is huge. We literally have had our entire team working on these for the last 500 days and for the sake of brevity will simply summarize things on a high level.
Added new worldwide regions including Asia Pacific
Added a new EFA region to provide Early Feature or BETA Access to Technology Partners
Improved the interface appearance of graphs in Camera Details
Improved look and feel and user interface
Fixed bug of inaccurate time of the last event in "Activity Sensor - Alert' page in MxLINQ
Added force reloading after saving changes on an EBT intro to 'TRFeverAlert'
Fixed bug of logout on an iOS mobile device in MxMSP
Added inactivity timer to auto-logout in IPT
Implemented daily EBT report sent to customer email
Implemented new model of DrayTek switch (P2100) with improved UI
Implemented MOBOTIX Config backups, comparison alerts and audit reports to MxMSP
More advanced usage report
Fixed S16B dual lenses camera bug for auto and both settings
Implemented Kentix firmware upgrade
Finalized Vaxter LPR option
Multiple security audits and restrictions including internal access audits
New MxGuard alerts for NAS Not Reachable or Misconfigured, number of Recording Days Available too high or low, Max Capacity Utilization, Buffer Utilization, Visual Alert for Camera Not Armed - Recording Disabled, and Recording Events Count Too Many/Few
Improved analytics for IPTECHVIEW Cloud Storage to detect and help imrove settings for cameras producing an above-average number of recordings
New GUI button to sync camera's name to the device nickname in the platform customized for MOBOTIX cameras in MxMSP
Improved VoIP dashboard to work with 3CX's new API
Fixed several bugs in the Video Archival and Sharing process and added the EBT flag to archived videos
Added 3CX error capture and improved warning/alert levels. Alert messaging coming soon
Improved IPTECHVIEW's Download Scheduler logic to enable cloud storage throttling by time table
Removing a MOBOTIX camera from the platform. This now gives an option to clear all IPT-related configuration from it before deleting
Added further intelligence to IPTECHVIEW Universal Provisioning Tool
Added UTF-8 language support for all IPTECHVIEW metadata fields for Cyrillic and Asian languages
Improved connectivity for generic devices attached to an IPT Security Gateway
Added MOBOTIX MOVE support to MxMSP and MxLINQ
New IPTECHVIEW & MxMSP Startup page with faster login, current statistics, and system status information
New Subscription Management module. Alerts for expiring Subscriptions. Renewal purchase option for Partners. Device Subscription Status Indicator in MSP platform. License management options like disassociating a subscription from an older or defective device and applying to a new device at the same account. Automatic initial demo period for all new devices with visual countdown. On-demand subscription purchase option with instant auto purchase for all partners buying on terms.
If you're not providing IPTECHVIEW or MxLINQ/MxMSP to your MOBOTIX customers yet, start by putting your own cameras in the cloud for free.
Want to see all of our updates in action? Check it out here.
Have questions? Please contact us at 972-831-1600, #3 or sales@abptech.com.