Introducing IPTECHVIEW's UNIVERSAL Camera Line: A Comprehensive and Affordable Solution
At IPTECHVIEW, we believe that video surveillance should be simple and easy for everyone to use. That's why we created our cloud-based IP video surveillance solution that doesn't lock users into a single camera brand. We work with several premium brands, like AXIS and MOBOTIX, and we recently added our own highly cost-effective, entry-level solutions for the lower end of the market. We call it our UNIVERSAL camera line.
The goal of the UNIVERSAL camera line was to provide a value line that can be sold in conjunction with premium camera solutions when users need additional, more basic cameras to help make the overall project more competitive. It's also a great solution when integrator partners have a standalone project where they're competing with a competitor that uses lower-priced cameras.
The UNIVERSAL camera line is NDAA-compliant and consists of 2 bullet cameras with two focal lengths, 1 turret camera, 1 hemispheric camera, and 1 dome camera. Two models are also available as active deterrent cameras with LED strobe and audio. All units are used for indoor and outdoor, have the same chipset, the same highly light-sensitive 5 MP sensors, 128 GB memory in SD card tuned to work well with IPTECHVIEW on-demand and cloud-based cloud recording options, IR lighting, and the same set of basic AI analytics that are natively tuned to trigger events in IPTECHVIEW.
But don't let the lower price point fool you. The UNIVERSAL camera line is made with premium components, including a Taiwanese MSTAR chipset and premium powder-coated injection-molded aluminum cases with stainless hardware made in China. They are assembled in China in a private commercial business that makes premium cameras. The camera line was carefully designed to not have too many SKUs, making it easy to use and more cost-effective.
Projects started with these cameras can always be extended or enhanced with high-end specialty cameras, AI analytics, or special features like thermal, PTZ, explosion-proof housing, or more from our premium camera lines. All cameras work together as a single seamless solution.
At IPTECHVIEW, we believe that video surveillance should be accessible to everyone, regardless of budget. That's why we're excited to offer the UNIVERSAL camera line. We're confident that our customers will appreciate the cost savings, as well as the ease of use and quality that come with every IPTECHVIEW solution.

The UNIVERSAL cameras are IPTECHVIEW-Ready™. Easy plug & play and cloud management with no fixed IP or port forwarding needed. They come pre-configured with their 128GB Mini SD card preformatted and tested, and their GUI is fully accessible through the IPTECHVIEW platform. All cameras include higher-end IRs that does not look obtrusive or cheap and are fully audio enabled. All units except the dome also include a built-in microphone.
For a list of complete features, click here.
WHY UNIVERSAL CAMERAS
Market demand for a robust value camera line
Cloud optimized
Preconfigured & remote configuration
Low light & WDR
Includes AI analytics
NDAA-compliant
HOW DOES IPTECHVIEW STACK UP AGAINST GENERIC LOW COST CAMERAS?
Generic cameras are for lowest price, not durability or image quality. Lower-end cameras are more vulnerable to hacking, have worse video, erratic audio, fewer features, and are designed to be set up as expensive on-premise installs. Often SKUs are confusing and features you need may not be on the SKU you get.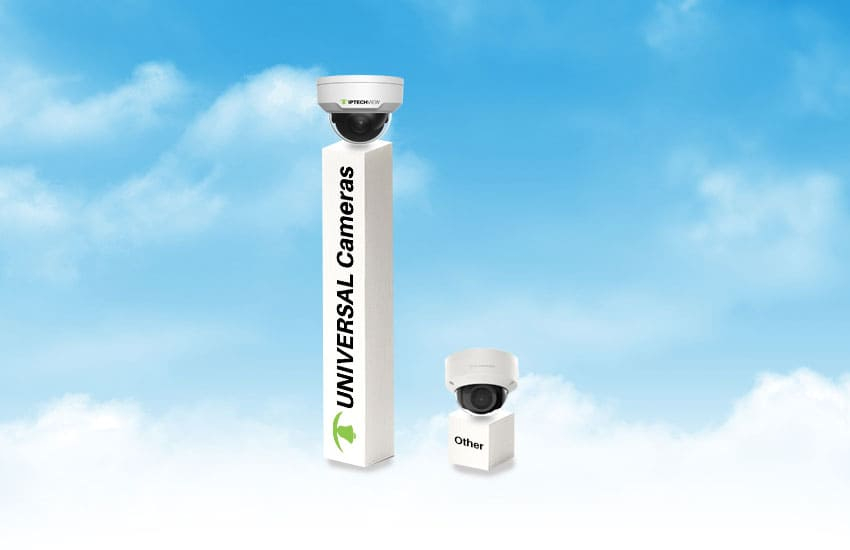 IPTECHVIEW Universal cameras are made for durability. Every SKU universally includes all these options:
128 GB card storage
Fully preconfigured to Plug & View™ on IPTECHVIEW SURVEILLANCE
Built-in mic or external mic support on all cameras except the dome camera
Unobtrusive IR lighting
WDR
High color sensitivity even in low-light operation
PoE
Basic in-camera AI analytics like intrusion, people, and vehicle detection
HOW TO GET STARTED?
Take some UNIVERSAL cameras out for a spin. This line will revolutionize your business by simplifying camera installations like never before and your customers will praise the color, perceived image depth, resolution, and low light sensitivity.
Build your next project from scratch or simply mix these cameras in with your other cameras on your next IPTECHVIEW project where you want to be more competitive to win the overall deal.
UNIVERSAL cameras have the power to help your high-end camera projects by dollar averaging when you need a price advantage.

To make it easy for you to experience UNIVERSAL cameras we have a special IPTECHVIEW Partner Starter Kit for UNIVERSAL cameras. To celebrate the launch of the new line, we crafted a special promotional kit designed to give you a full set of everything UNIVERSAL along with everything else you need to learn to become an IPTECHVIEW partner and be ready to deploy from small to even larger multi-site projects.
The Partner Starter Kit includes one of each of the 4 most popular cameras plus a second bullet so you have an extra unit to show your customers when selling. It also includes one of our recommended DrayTek PoE switches that are cloud-managed and IPTECHVIEW-Ready™. With this switch the IPTECHVIEW platform can auto-reboot devices remotely that are unresponsive. You can remotely manage all remote ports, power cycle cameras remotely after firmware updates or power problems connected to lightning or brownouts that can leave equipment nonresponsive.
Last but not least, the promotional kit also includes one each of the primary junction boxes so you learn how to use and install them at your facility first before installing them at a customer site. These junction boxes are all powder-coated, high-quality cast aluminum, and come with water protection, and all hardware included. Do not miss this introductory promotional Partner Starter Kit. The launch time partner kit will only be available for the first few months and while complementary items are available.
To start using UNIVERSAL cameras will be like going on a journey to a new country, and discovering how cool life can be using pre-configured devices, seeing all your customer projects on a single pane, being able to setup all your cameras remotely, and monitor their health and manage them for the lifetime of your project.