IPTECHVIEW Update 1.8
We just announced the Release Candidate for Version 1.8 to security camera integrators, MSPs, and technology partners that have EFA (Early Feature Access) status.
Every EFA level partner can choose to operate on classical or new version in their Settings menu.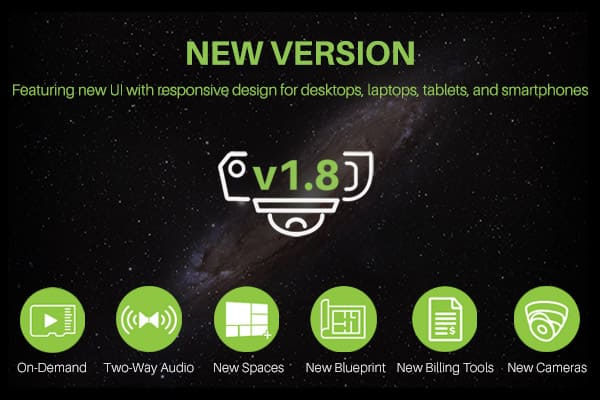 The new version introduces a updated UI that further consolidates IPTECHVIEW's role as a uniquely user-friendly VSaaS for end users.
Users' expectations today are to immediately benefit from the tools they buy, without much training. The need to be able to do everything they neef with a minimal learning curve.
Our new UI offers the same menu sequence on all devices by simply omitting features or modules that cannot be rendered on a particular device. However, everything else stays very much the same, empowering users to remember and easily navigate from laptop to smartphone or for loss prevention, to use a large professional multi-screen station for their video needs.
The Most Important New Features Introduced in Version 1.8

On-Demand is a new Composite Video Storage model that combines cloud recording and in-camera storage. This is done by blending both cloud and in-camera recording into a transparent user experience that operates and shows video regardless of storage location. (It is now possible to choose the subscription mode for any particular camera.)
This enables cloud surveillance VSaaS even in low bandwidth situations it also enhances standard cloud surveillance as IPTECHVIEW seamlessly delivers video from the SD card if the cloud storage option can not provide video. This may be because of current bandwidth constraints or technical issues the system may not have had enough time to upload recent video.
The composite dual mode gives users a choice of how they access video. Full cloud for redundancy and future access speed or a more economical "in-camera-only" storage option for cameras where cloud storage is not required and users are on a budget.

The new version also offers two-way audio for supported cameras and video door stations. Audio support will also work on smartphones, and these can be used for talk-down when out and about and for opening door stations.
Talk-down, when combined with IPTECHVIEW's personalized alerts with human detection, is superior to simple recorded alerts. It creates a powerful proactive solution to protect and prevent crime or compliance issues.

A special commercial real estate version will support managing tenant phone numbers for up to three simultaneous dialed numbers, tenant names, contract expiration dates, and more.
The platform's two-way audio and SIP support also forays IPTECHVIEW's new support for door stations and video intercoms.

Users always like the ability to easily organize camera views in custom grids. The new version has perfected that functionality and offers things like pan & zoom inside the grid cell and automatically raises resolution of the active in-focus cell. Akin to our eyes central citrus focal area in the retina, IPTECHVIEW It offers high-resolution in the area users are looking at and keeps the rest throttled. Uses can increase resolution stream on single grids and maximize these to full screen or move to other monitors to watch at higher resolution and frame rates. All of this happens fully automatically without any special user intervention while integrator or IT can preset maximum values to protect bandwidth ahead of time on the management side.
IPTECHVIEW is optimized for multi-monitor power users and provides talk-down audio access on any grid and easy access to floor plans, player views, and multiple high-resolution live streams.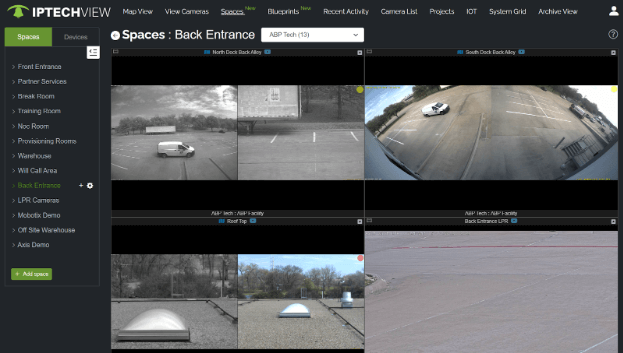 SPACES also was re-coded to operate in a responsive design fashion so it can work optimally on large screens as well as pads and SmartPhone.
It also saves bandwidth and turns off video stream requests when changing the grid, which protects the application from opening too many sessions that can lock up cameras.

The next release in addition to the MJPEG video will also include RTSP streams for higher frame rate and higher resolution in the main focus stream areas.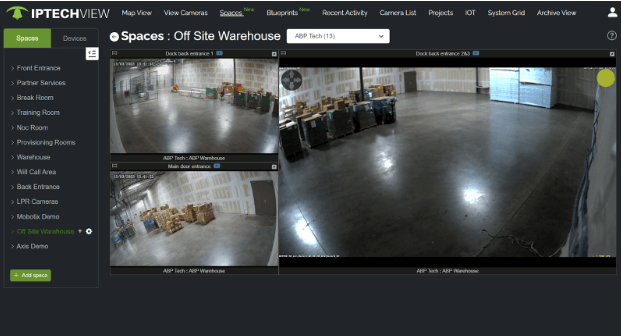 Floor plans and aerial views can now easily be seen by users and are easy to manage and upload.
The new views show the locations of cameras, sensors, and other devices managed on the platform, and hovering cameras provide instant viewing. Camera views can be set to be always on, resized, and moved around at each user's preference without affecting other users.

Integrate with access control such as controlling Doors, Gates, Lights ETC. Users have the power with the click of an icon to open doors, turn on lights, and operate sound with a lightning-fast response.
IPTECHVIEW enables the creation of virtual buttons that can be assigned to a camera to perform certain actions when observing a camera. Examples are to turn on lights, open or close gates, trigger the playing of pre-recorded Audio and more.

Premium Users with access to Remote Management & Health Monitoring Mode can now see their subscription status. Reseller partners can generate reports of subscriptions and summaries too early to smoothen and simplify billing. Cameras purchased on different dates can now be upgraded to a co-terminating master subscription to simplify subscription updates.

IPTECHVIEW now offers a variety of world-class cameras, AXIS, MOBOTIX IoT, MOBOTIX Move, and some NDAA-compliant cameras, including the new value line - the UNIVERSAL camera. All cameras can co-exist in one solution on the platform. This offers buyers a great selection of camera technology options and a wide price range to choose from with no single vendor lock-in.


Summary
IPTECHVIEW truly reinvents video surveillance in the cloud. IPTECHVIEW is exceptionally scalable and can be deployed in small to large projects, and is often used in national multi-location projects. Organizations get a single pane to view all their equipment at all locations and can access, intervene, co-manage, or outsource management to their technology partner. The system can also be expanded from only video cameras into communications, video door stations, access control, IoT, and more as needed.
Our concept of "pre-configured to be configurable" with remote configuration lowers time & travel costs for initial setup and for a lifetime of service. IPTECHVIEW enables integrators to compete with large national security and alarm system players that deploy cookie-cutter products yet provide more diverse value-add solutions and higher-end technology.
Other Improvements
Privacy Mode Enhancement - Turning camera privacy on and off is now clearer and easier to use
New Help Section - Now on the bottom of every end-user-facing page. Support Request in the bottom left corner and Video Guides for learning how to use the platform easily in the bottom right corner.
Management System (MSP platform) - MOBOTIX and UNIVERSAL camera firmware upgrade button
Bugs Fixed - SRV audit/improvements
Updated Settings - The new Settings page improves the look and feel, adds a new Dark Mode, and provides the ability to revert back to the old version. This may be helpful if users prefer using the old layout or if a bug in the new version requires them to go to the old version to do something as a temporary workaround.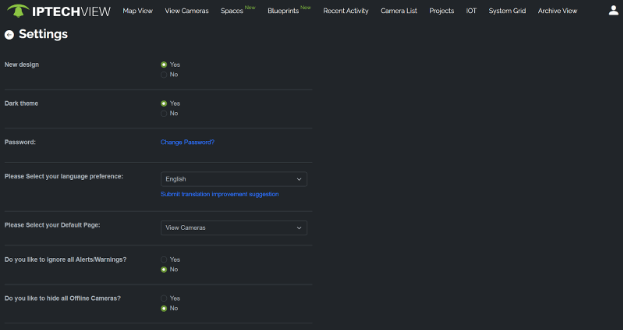 New Responsive Design
Smartphone views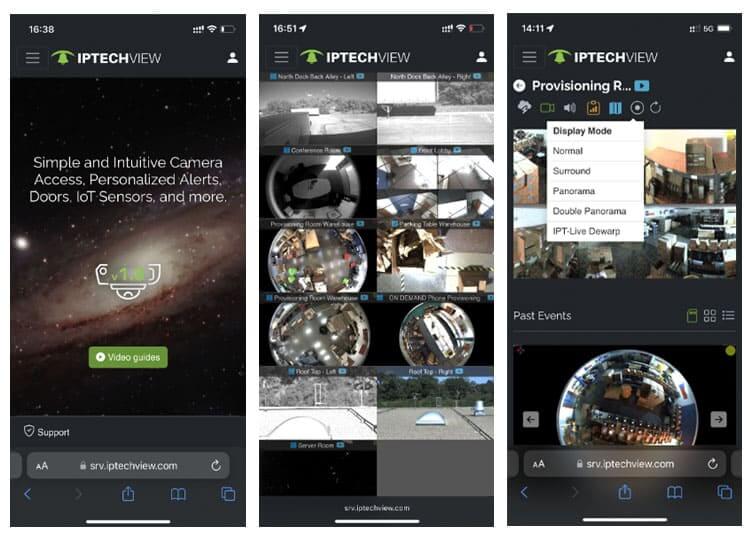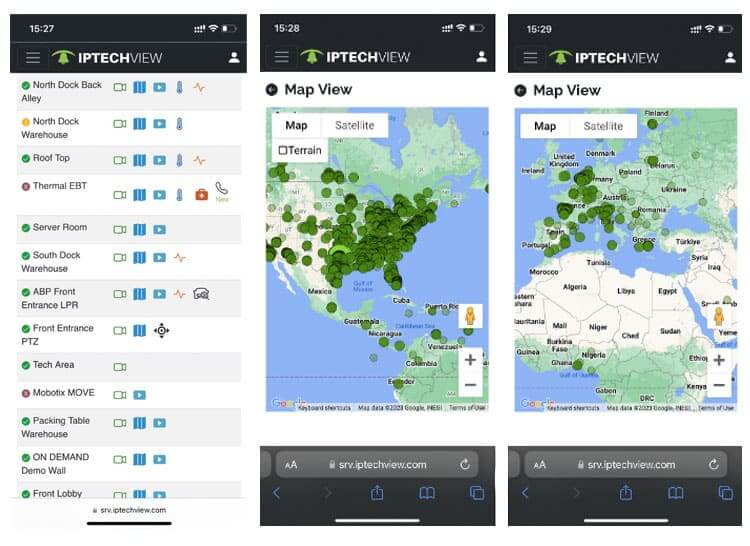 The Why of IPTECHVIEW
For everyone new to IPTECHVIEW - this platform was created to provide users with the most user-friendly, scalable, serverless, and secure cloud platform.
We believe that user-friendliness democratizes video and provides value around security by protecting people, places, and assets as well as by enabling more situational awareness, providing visual data to improve productivity, actionable intelligence to operations, and empowering a more remote world. This saves time and resources, creating a more remotely serviceable solution that now supports mission-critical applications.
Lastly, we intend to be future-ready application-wise. Give organizations the ability to start with what they need now, ie. starting with their video needs on the same platform, with the same tools and apps, and expand by adding access control, video intercom, and IoT devices. For example, the AlarmReady™Universal alarm system integration is a free feature for all users that can be activated by the integrator at any time. Most integrators will charge a nominal setup fee to enable and fine-tune the alarm integration.
The platform continues to grow its analytics and AI capabilities by adding support for more brands and intelligent devices and adding more in-camera and cloud analytics.