How to Prevent Hikvision Cameras from Getting Hacked?
Protect your organization from getting hacked. Sometimes older cameras or certain brands dont provide the security needed. Increasing the security if your camera system is particularly critical for projects using lower cost brands that are known to have some security flaws.
Brands like Hikvision have become very popular due to their low-cost price but they products may have saved on security features. This leaves many installers, and their customers with projects that require a secure environment in a precarious positions. IPTECHVIEW offers an elegant solution to secure and otherwise upgrade and extend the life of most existing Hikvision and LTS cameras.
IPTECHVIEW is a professional cloud-based video surveillance platform designed to provides a direct camera to cloud offering, and recently introduced a new unique security gateway designed to protect organizations that deployed on-premise solutions that include potentially less secure cameras. This is done by placing the cameras behind our secure IPT-CAMGate which isolates these cameras from the Internet or company networks yet duplicates and forwards the video these cameras streaming record. After installing the IPT-CAMGate these cameras don't have means to connect to the Internet and or to companies computers yet their video is fully accessible through the video surveillance platform. The IPT-CAMGate even improves the camera performance because it will support many simultaneous video streams being seen remotely from the camera even if the lower cost original cameras themselves only support a couple video streams and not more. The IPT-CAMGate establishes a secure tunnel to the IPTECHVIEW cloud and acts as an application gateway and is the only element that communicates with he cameras for essential surveillance traffic only.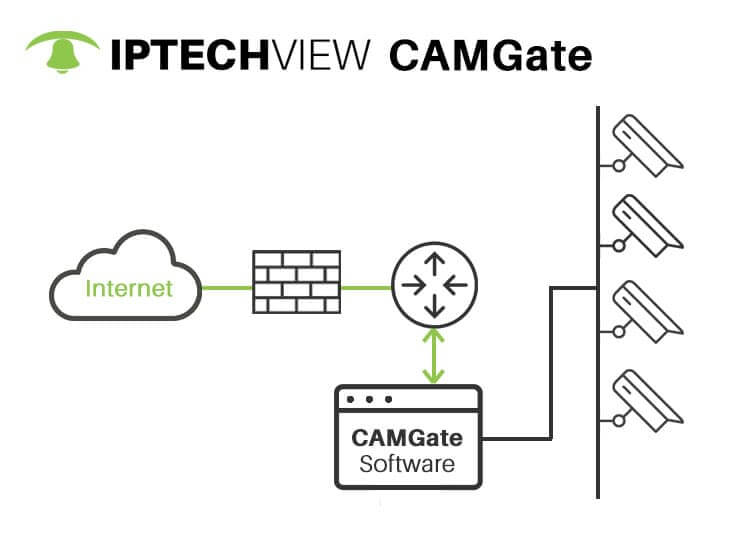 IPTECHVIEW's CAMGate is available as a software package that runs as a virtual image in a computer running any modern OS; or can be acquired as a preconfigured small dedicated server.  Once installed it detects all the cameras on its network and adds them to the customer's account. Once on the platform, the cameras behave just like any other certified camera on the IPTECHVIEW Surveillance platform and provide among other things Cloud video storage, access to live streams, view cameras on floor plans, customizable grids as well as access over smartphones or computers.
Additional benefits of using IPTECHVIEW's VSaaS with Hikvision, (LTS and other HIK OEM brands), go beyond security. Users will also get a simpler and more predictable user interface and work environment including the ability to easily find and share video, the platform also includes an enterprise-class central management system that empowers organizations to ingest and manage all their different camera solutions on one robust and secure management platform that can mass update firmware and audit or modify configurations. IPTECHVIEW also provides guaranteed retention time on highly available cloud storage.
A few years back when we started our biggest obstacle to people embracing our platform was for buyers to overcome the myth that on-premise solutions are more secure than cloud solutions. Today our cloud solution provides a shield to protect on-premise cameras at risk while gaining an elegant and user-friendly VSaaS solution.
IPTECHVIEW is being used for its ease of deployment and simplicity by organizations with small to large camera projects in different industries for its scalability to nationwide solutions. Larger companies don't want to miss our universal camera management with multilayer hierarchical role based access, Google or Microsoft single-sign-on, support for other SAML 2.0 enterprise identity providers like Okta and other features.
To explore how IPTECHVIEW can enhance the security of Hikvision and other cameras, we invite you to visit our website or contact our sales team for a live demo. Discover the comprehensive features and benefits of our cloud-based video surveillance platform at https://www.iptechview.com.

Please see additional news articles on dangers of Hikvision and other low-cost cameras: